Out of the box, sadly, PHPStorm doesn't make nice with the Ubuntu Unity launcher.
Typically I manage PHPStorm by extracting it to /opt and then symlinking the extracted folder to /opt/PhpStorm.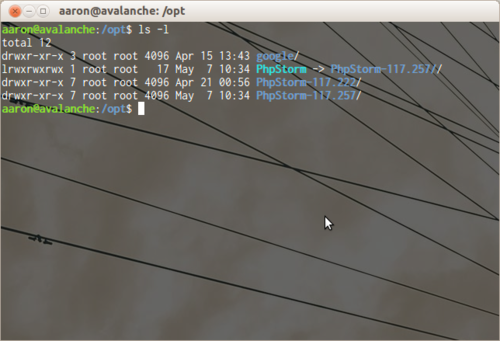 To create a nice launcher for Unity you create a desktop entry under ~/.local/share/applications
$ vim ~/.local/share/applications/jetbrains-phpstorm.desktop
Now paste the following in (adjusted for your own paths)
[Desktop Entry]                                                                  
Version=4.0.1                                                                   
Type=Application                                                                
Name=JetBrains PhpStorm                                                         
Exec=/opt/PhpStorm/bin/phpstorm.sh %f                                           
Icon=/opt/PhpStorm/bin/webide.png                                               
Comment=Develop with pleasure!                                                  
Categories=Development;IDE;                                                     
Terminal=false                                                                  
StartupNotify=true                                                              
StartupWMClass=jetbrains-phpstorm           

Hit your windows or super key and type in 'Php' - you should see the newly created desktop entry there. Once launched and fully started, you can opt to keep PHPStorm locked to the Unity launcher for easy startup.